IT Company Digital Marketing Case Study
Published: April 13, 2020
Last Updated: June 25, 2022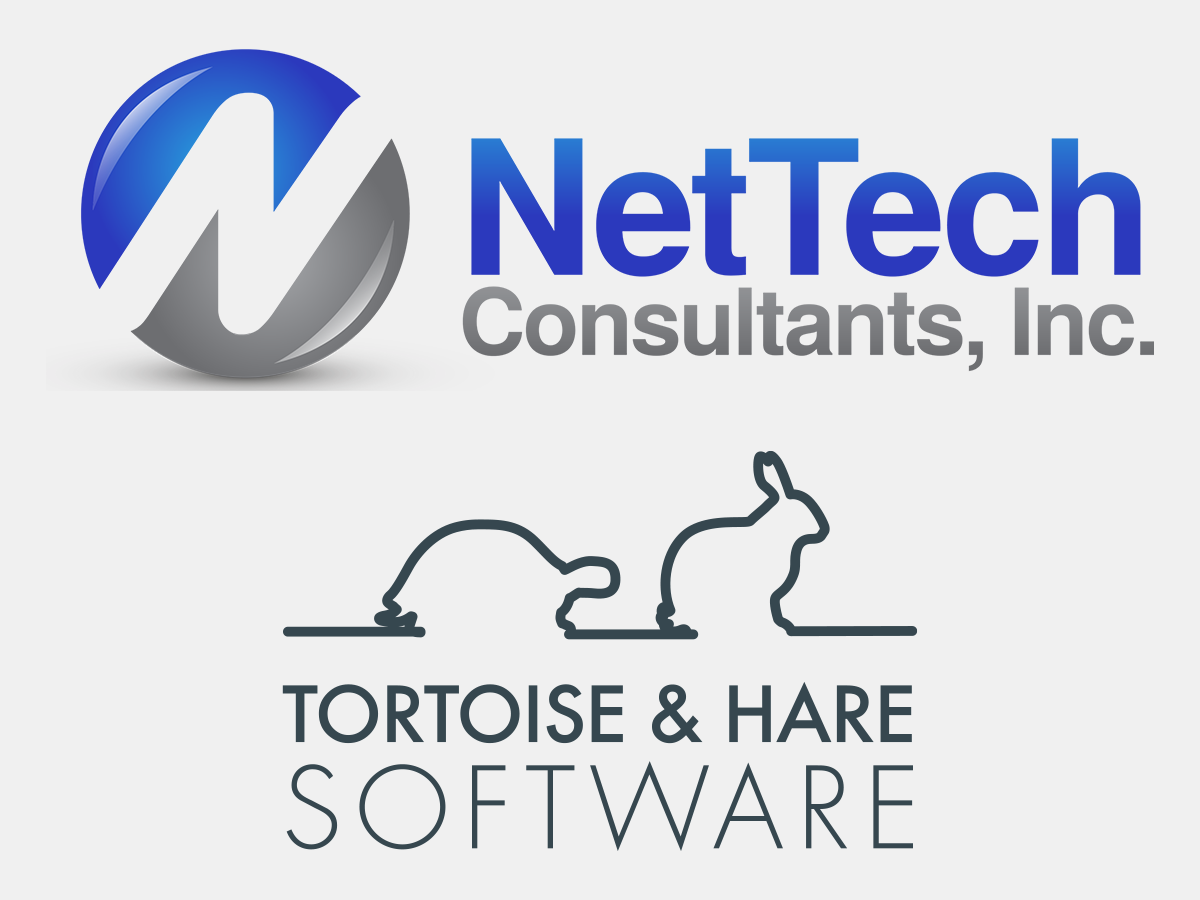 Add a header to begin generating the table of contents
In today's post, we're going to be talking about an IT company digital marketing case study. NetTech Consultants is a Jacksonville-based IT company or Managed Service Provider as they're commonly known in the IT world. Back before coronavirus, there was this thing called a "trade show" where large groups of people would get together and showcase their businesses. We initially established contact with NetTech at a trade show where they were looking to toe the waters of digital and expand their marketing efforts, but were unsure of how to proceed.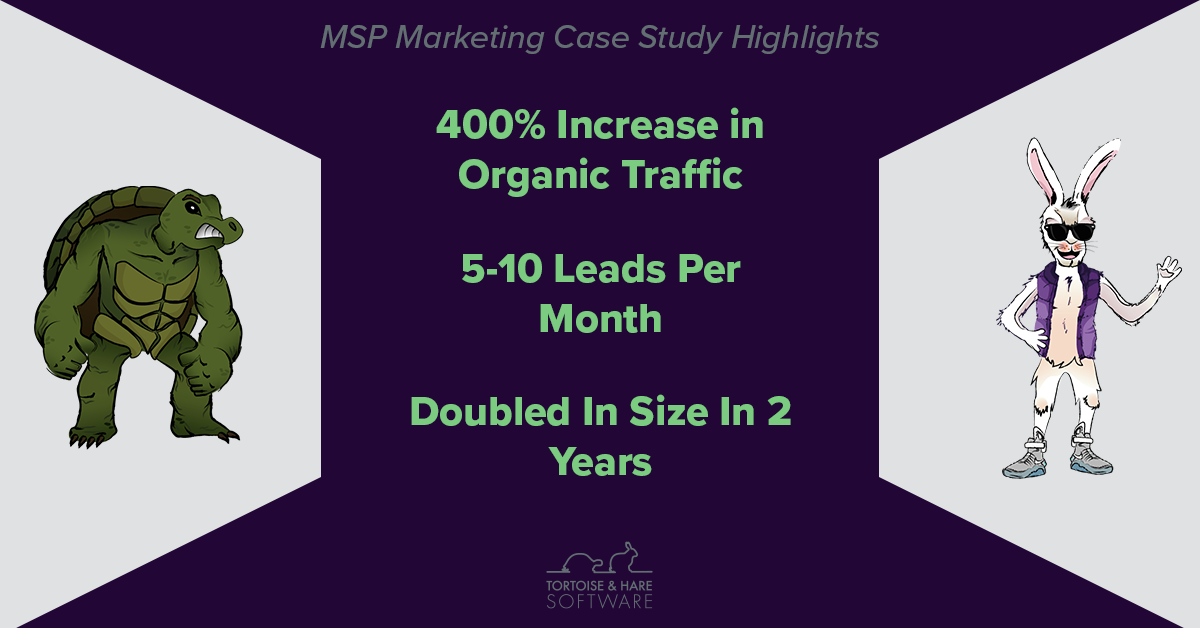 Video Overview
Initial Audit Findings
We took a look at the online presence and spotted several opportunities for improvement. Their website was loading quite slowly, was not search optimized, and needed a design update. Their social media pages and business listings were out of date and needed a more professional look and some updated copy in the descriptions.
NetTech also didn't have any sort of active digital marketing plan and were relying heavily on referrals and outsourced appointment setting services. Since NetTech was wanting to get more aggressive with their growth we also took a look at the options available, timelines for a return, and budgets and decided that establishing a pay-per-click investment would be most prudent.
Marketing Website Updates
Since a website often serves as the cornerstone of other digital marketing efforts and is the main place prospects are driven to and leads are generated, we started out with an update to the website.
Tortoise and Hare Software started out by creating a new design in Photoshop that NetTech was able to provide feedback on before beginning work on the new site. Designs were created and approved quickly and work began shortly thereafter.
After some technical changes and code updates, we were able to significantly improve the user experience by reducing page load times and implementing the new design. Below is a screenshot of the above-the-fold home page, but you can view the full site here. We also updated the site to be a more graphical and engaging and updated copy in certain places.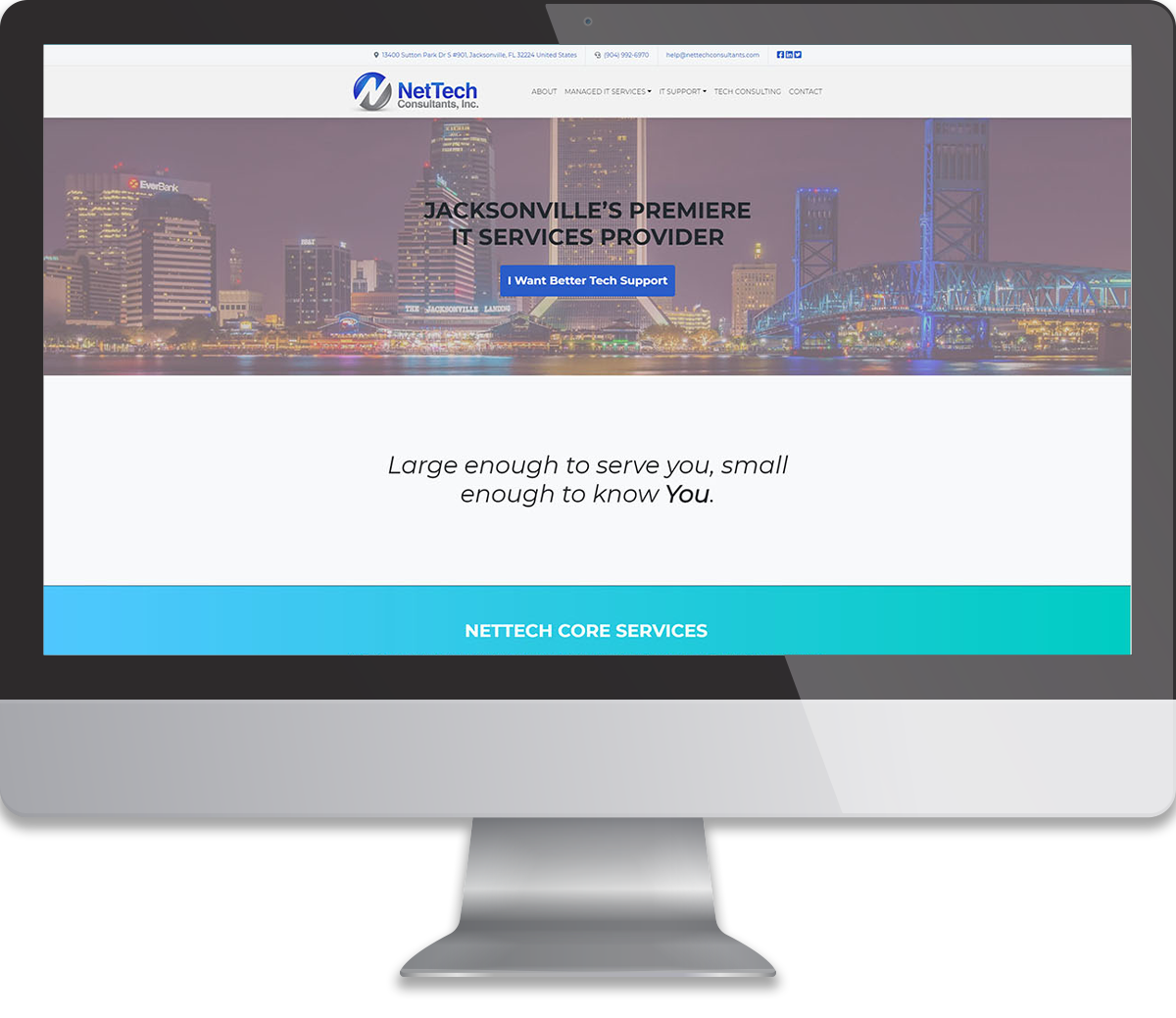 Behind the scenes, Tortoise and Hare Software also installed several tools. Firstly we installed Google Tag Manager to help deploy small JavaScript tags that social media sites and other related marketing technology requires without having to re-deploy new code. We installed Google Analytics and configured their analytics set up so that NetTech could get a better understanding of how their website was performing. We also installed a conversion rate optimization tool to measure scroll depths, capture heat map data, and look at screen recordings of how users were interacting with the site.
We also registered the site with Google and Bing, created an XML sitemap, and submitted it for indexing so that the site would be better understood and generate more relevant search engine traffic.
As part of the website update package they purchased, we also moved them over to a business-grade web hosting platform with properly configured caching, a content delivery network, and a streamlined development workflow to make ongoing updates.
These changes laid the foundation for developing an effective IT company digital marketing program and allowed them to start advertising in the Jacksonville market.
Advertising As Part Of The IT Company Digital Marketing Plan
The next step in the journey was to start advertising and bringing more traffic to the website to increase brand awareness in the marketplace. After looking at available options and weighing other considerations we decided to advertise with a budget spread across Google Ads and LinkedIn.
Tortoise and Hare Software started by defining and installing conversion tracking to measure the success of ads using the conversion tracking tags from each platform and deploying them through the previously installed Google Tag Manager. The identified conversion events for the business were:
Phone Calls
Contact Form Submissions
Inbound Email Clicks
We installed and configured the conversion tracking and also installed the re-marketing tags for each platform, the Google Remarketing Tag, and the LinkedIn Insights Tag.
Campaigns were set up on Google to generate traffic for searches like:
IT Company
Tech Support
Managed Service Provider
IT Consultants
Managed IT Provider
IT Outsourcing
These campaigns were supplemented by display and search remarketing campaigns and a LinkedIn sponsored content campaign to keep searchers engaged.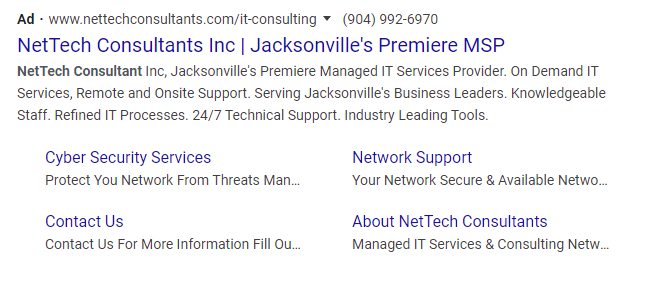 Digital advertising was a new venture for NetTech and a gentle approach was taken by sending traffic from campaigns directly to relevant pages on their website in order to establish a baseline performance, with plans to set up dedicated landing pages for high-performing keywords and expand efforts in the future.
Advisement Services
A key portion of the working with NetTech these past months has been providing advisement services. We've examined competitors, discussed ways to improve the website, talked about content strategies, discussed adding live chat functionality, what implementing marketing automation tools might look like, and what the impact of dedicated landing pages for high volume keywords could be.
Business conditions change regularly and so does the conversation about how to best invest available resources. Tortoise and Hare Software have served as a trusted adviser to NetTech throughout the relationship.
Results Generated
Over a 5 month period from 10/1/2019-2/29/2020, NetTech was able to generate at least 1500 site visits and at least 26 leads, representing approximately 5 leads a month sourced from digital.
In reaction to the pandemic, NetTech paused its marketing in march but resumed in April with some additional investment. From April through October we've been able to generate over 1850 site visits and increase monthly lead volume to an average of 8.5 leads per month sourced from digital and they have continued to grow their monthly recurring revenue over the time period.
Another more silent benefit is that NetTech has also built up a solid base of re-marketing lists in its digital advertising accounts that will continue to provide an ongoing benefit. Sales cycles in the MSP world can be 6-12 months or longer and the sales pipeline for NetTech has been firmly established and can continue to provide benefits into the forward-looking future.
Results have been convincing enough to expand their digital marketing program, roll out dedicated PPC landing pages, and expand into monthly blogging.
Are you interested in generating new leads for your MSP? Reach out and learn more about how we create an IT company digital marketing plan for your business.
Add a header to begin generating the table of contents
Free Email Course:
Launching Your B2B Digital Marketing Program
Enroll in our free digital lead generation crash course. A 60 day email series with twice a week emails walking through the journey of how to launch your digital marketing program and generate more B2B leads from your website. Unsubscribe at any time.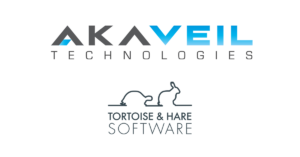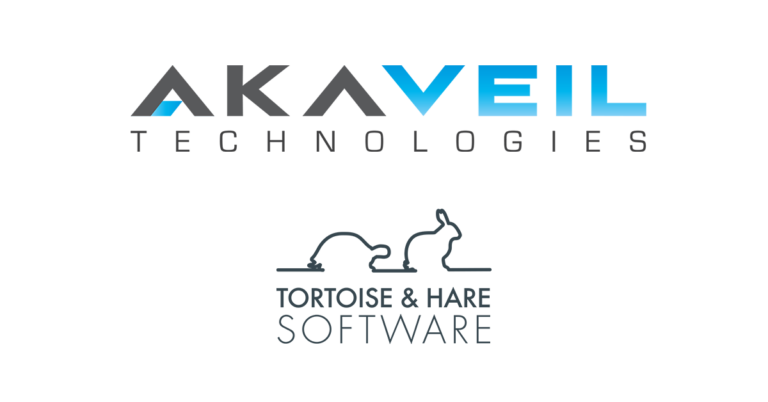 AKAVEIL Technologies Inc. (AKAVEIL) is a small but growing managed IT services provider that reached out to Tortoise and Hare Software (TNHS) in May of 2022 for help with their marketing. AKAVEIL had been struggling to generate traction with outreach efforts and determined that additional marketing support was needed to generate more leads and scale…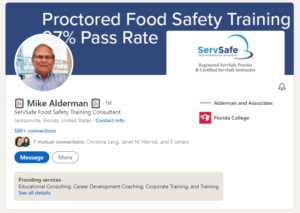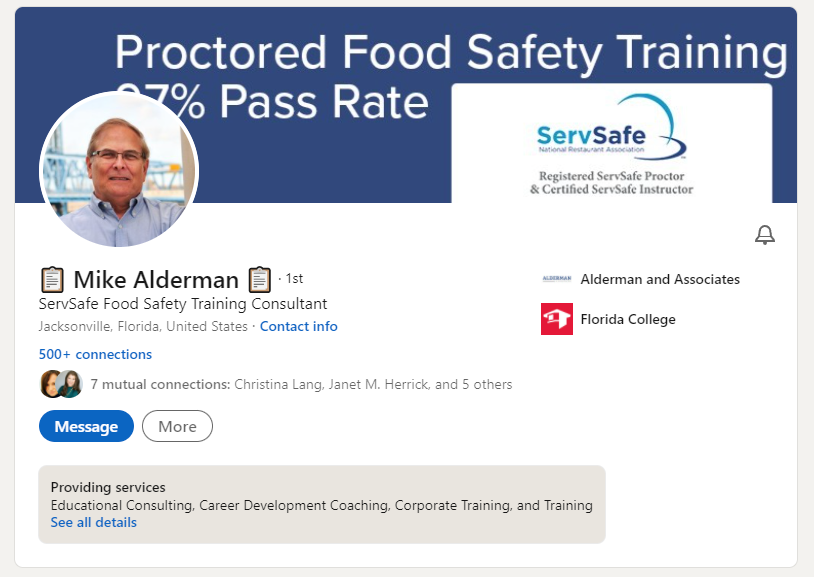 In todays post we'll be talking about how we helped a food safety training consultant update their branding, increase exposure, and start generating more leads for their proctored food safety training company. Alderman & Associates is a food safety training consultant delivering in person food safety training to help people get their ServSafe food safety…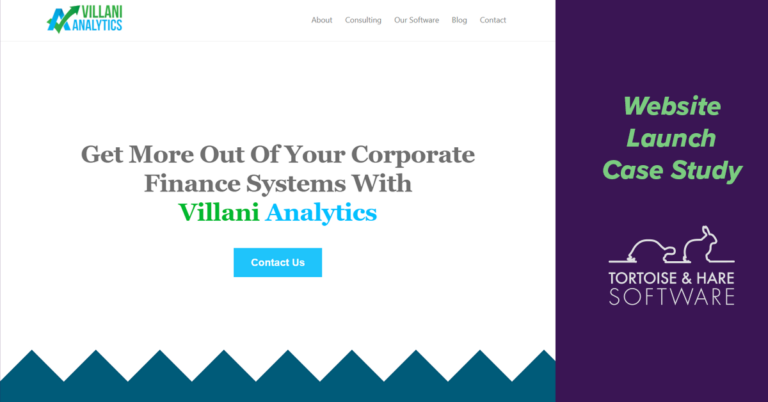 Villani analytics, or Villytics for short, is an ERP consultant specializing in the Oracle cloud suite of enterprise resource planning (ERP) and enterprise performance management (EPM) products. They work with a number of tools in the Oracle cloud suite to help companies, track and analyze financial performance. After a successful run in consulting, Villytics decided…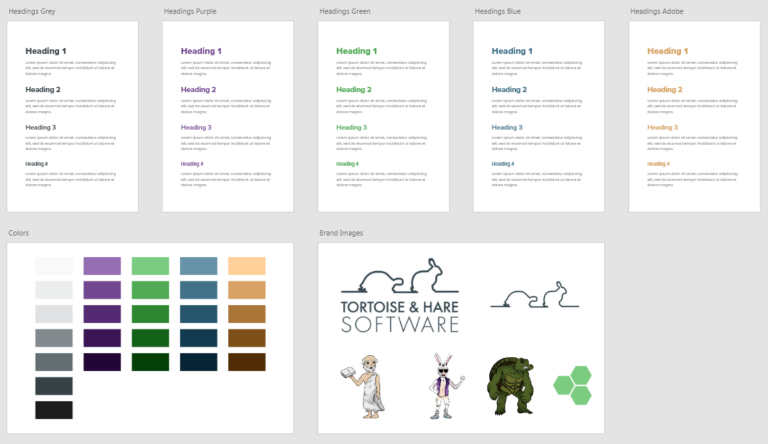 Throughout the process of launching and running Tortoise and Hare Software these past 3-4 years there's one thing that I've gotten consistently good feedback on. The brand! People who aren't shopping for marketing, and have no relationship to the company will regularly come up to me at trade shows, or comment on my business card,…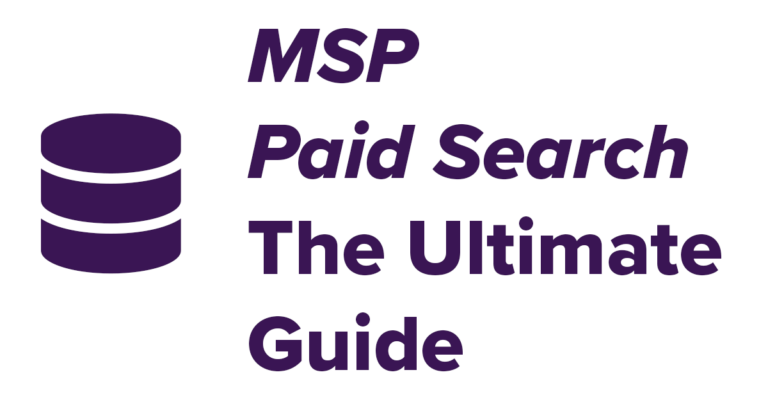 Generating leads for your MSP can be a challenge. You spend so much time managing employees, making sure customer support tickets are answered, procuring hardware, and defending against cyber threats, there's hardly time to worry about networking and doing things like posting on social media. However, you'd like to grow faster, and due to some…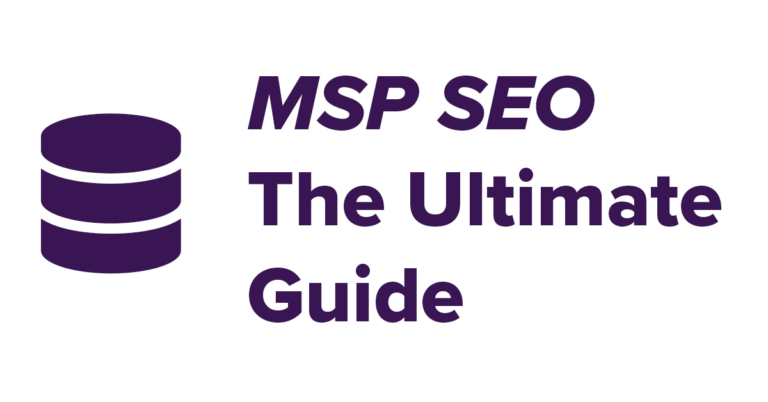 Search Engine Optimization (SEO) is one of the most important ways to attract new business for mid-market managed service providers (MSP). If you look at MSPs that have achieved any sort of meaningful scale and grown to the 10MM ARR mark and beyond, you will almost always see a significant portion of their growth came…
Tortoise and Hare Software is a boutique B2B tech marketing agency. We help companies like MSPs, SaaS providers, cybersecurity firms, and other technology service providers launch their digital marketing programs and generate inbound leads.