TNHS Helps Break Fix Launch Emergency Website
Published: July 16, 2023
Last Updated: July 16, 2023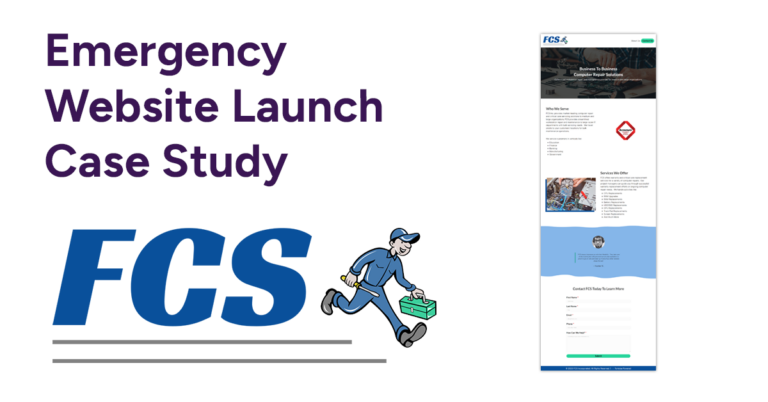 Add a header to begin generating the table of contents
I got a strange phone call recently from a break/fix computer repair provider with a pressing need. They called from a conference they were attending with the need to get a website online today. An unusual request for sure, but one we were able to accommodate. The company that called in, FCS Inc. had a key customer searching for more information on a vendor and noticed that they didn't seem to have a web presence. One of the mid-level managers for the key customer notified FCS of a need to have an online presence before passing information and recommendations up the chain to the company's senior leadership. The owner of FCS happened to be chatting with a previous customer of Tortoise and Hares who recommended they reach out to us, as we had built their website.
The Challenge
The key component of this deal was a same-day launch of the website. Considering they called at about 2 PM, I knew it was probably going to be a long day, but I also didn't want to turn away a referral and the chance to bring on a new customer. The other challenging aspect was that they were in the middle of a conference and didn't have time to provide much information about the company, so for the most part, I would be on my own to create copy and do my best to make the company look good with limited information.
Preparation Meets Opportunity
One of the key components that allowed me to complete this deal and deliver a same-day website turnaround was the years of preparation and refining of processes that have gone into a moment like this. I was able to generate a copy of the Master Services Agreement for the agency in moments. This is a document I put a lot of effort into over the years and had reviewed by an attorney and allows for both the Agency and purchaser to have a set of governing rules that de-risk jumping into business on a dime like this for both parties. I had a DocuSign account available and ready to send over the paperwork as well as QuickBooks electronic invoicing with credit card or bank transfer options available, allowing the purchaser to sign their agreement and make a payment from their cellphone in minutes from their conference. Easy peasy.
Another reason was the predefined stack and infrastructure for a website build that was already in place. We have hosting infrastructure in place for a one-click install of WordPress into a lightning-speed SEO-optimized hosting container. Once WordPress is installed we've got agency licenses for:
Beaver Builder
Beaver Themer
Ultimate Add-Ons For Beaver Builder
With agency licenses, we can deploy a page builder and theme builder onto the WordPress site in minutes and begin customizing them to the client's branding. We also have a GoDaddy Pro account allowing us to quickly obtain partner access from them to sign in and manage the client's DNS settings in order to point their domain to the hosting container (we use Kinsta for hosting). All in all, it took about an hour to get contracts signed, payments made, and a blank website deployed with a domain pointed to it.
Creating The Website
Speaking of branding… there wasn't any.
FCS was a break-fix provider that did hardware repairs and had grown organically through word of mouth and referrals, there was no marketing collateral or branding available to speak of. They dug up a centuries-old logo and provided some high-level information over a 15-minute call about the company.

The logo here was not usable on the web. It had multiple gradients, no transparent background, and drop shadows that would have made extracting something usable out of its contents more or less unfeasible in the timelines provided. We had to scrap and rebuild. Although a logo design was not directly included in the scope, the client was not picky about the look and feel and trusted us to execute. Since we are all about making it easy to do business with us, we wanted to accommodate their needs so we improvised a new logo on their behalf.

We also extracted a blue and green color scheme from their existing logo and customized the colors to be more web and branding-friendly. All colors were uploaded to their website for future use. We also defined fonts for their headlines and body copy to create a more cohesive visual identity. From there we put together a basic website using the color scheme and branding and with copy improvised from the information they provided on their call. Since Tortoise and Hare is a company that provides online marketing to technology companies and has deep experience within the IT sector, we were able to do a fantastic job creating a brand story and providing information about the company by leveraging our industry experience and knowledge of computers and IT systems.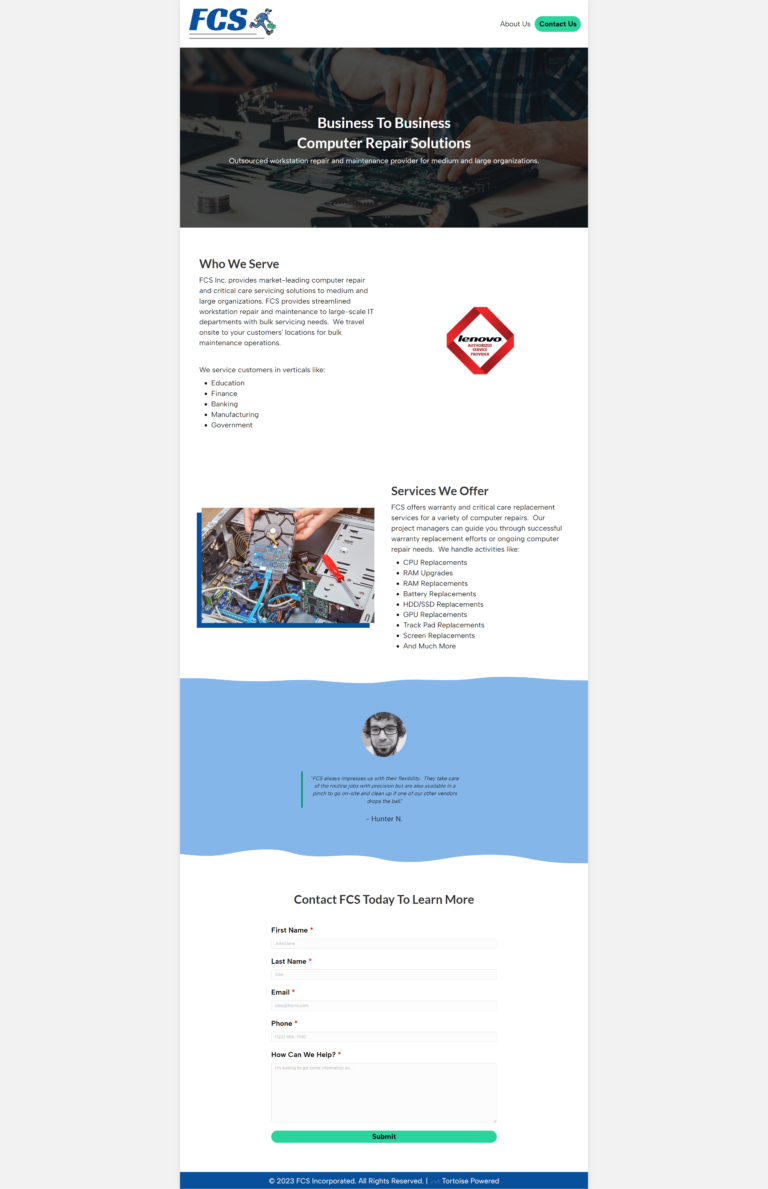 Wrapping Up
The project, although unusual, was a resounding success. We were able to launch the website within 5 hours from first contact to launch with a same-day turnaround, creating a very happy customer that was able to send off the website and make a good impression on their key customer as well. Over the next couple of business days, we put on some finishing touches and finalized the website project.