TNHS Helps South Florida MSP Launch Marketing Website
Published: February 6, 2023
Last Updated: February 9, 2023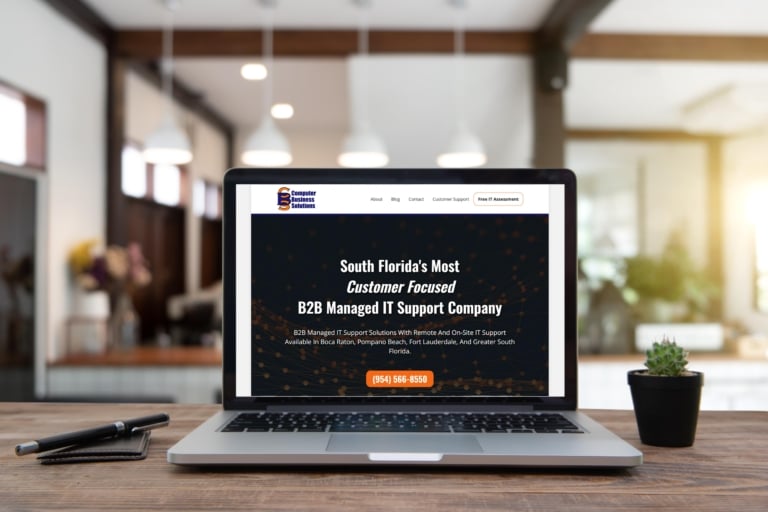 Add a header to begin generating the table of contents
Computer Business Solutions is a Pompano Beach based managed IT service provider serving Pompano Beach, Fort Lauderdale, Boca Raton, and the greater South Florida area. Computer Business Solutions, or CBS for short reached out to Tortoise and Hare as a referral from another MSP for help with preparing to launch an online marketing program. After a brief consultation and discussion of the high-level needs of the business, CBS and Tortoise and Hare decided to move forward with online marketing efforts via a micro strategy project by reviewing SEO data and researching potential online marketing competitors and use the lessons learned to help them refresh their website and put in the infrastructure needed to launch an online marketing program.
Micro MSP Marketing Strategy
The first step was to define the marketing strategy for the business so that CBS could be confident in its market positioning and messaging. Tortoise and Hare Software (TNHS) requested information on potential areas for market research from CBS including areas like industry customer concentration, technology focuses, geographic focuses, and other business attributes. From there a search engine data review was conducted to get a better feel for what market participants were seeking out in the areas CBS competed in. Tortoise and Hare also reviewed online marketing competitors currently occupying positions in search engine results pages (SERPS) to get a feel for their creative approaches, social media presence, and competitive propensity. From there Tortoise and Hare presented findings to CBS with a plan for incorporating strategic directions into the upcoming MSP website build.
Building The Initial MSP Marketing Infrastructure
Once the strategy project was completed, CBS and TNHS moved into the next phase of the engagement to build the initial marketing infrastructure needed to launch an online marketing program. These pieces included:
A refreshed website
Initial SEO activities needed to support the future strategy
Updated social media graphics and copywriting for company descriptions
Web analytics and associated conversion tracking to measure performance
Connection of the website to key advertising platforms such as Google Ads and LinkedIn Ads
A press release to support the website launch and build backlinks across the web
These initial infrastructure pieces would allow them to be ready to turn the key on advertising efforts and an online marketing program once completed and be confident in their ability to generate new sales leads and measure the performance of their marketing program.
MSP Website Refresh
The core piece of the infrastructure project was the refresh of the previous CBS website. The previous website was functional but was built on the GoDaddy website builder, had basic styling, and imagery that had inconsistent pixel quality at various device widths. A few screenshots of the previous website are featured below: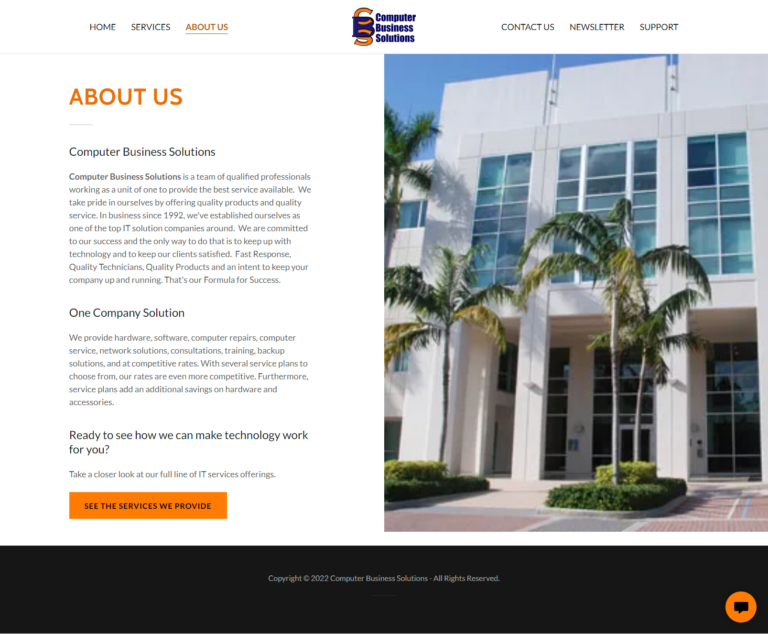 CBS needed to move to a more robust and extensible platform, like WordPress, add additional branding flare, and incorporate refreshed imagery with new photos of team members, office culture, and pixel-perfect edits incorporated. After an intensive 30 day build cycle and a few rounds of edits, CBS and TNHS were able to produce a killer website that reflected their brand and the quality of service they provide. Featured below are some of the screenshots from their updated MSP website.

MSP Social Media Graphics Refresh
The other more tangible element of the project included refreshing CBS social profile graphics and company descriptions on major social media platforms such as LinkedIn, Facebook, and Google Business Profile. Tortoise and Hare worked to provide updated social media graphics including a header photo, logo photo, and updated company descriptions that reflected new strategy changes. CBS also went the extra mile and sourced photos from their team which allowed employees to update their LinkedIn profiles with refreshed headshots to pair with the updated branded graphics, further strengthening their appeal on social media.

Additional Technical Marketing Activities
Many of the factors in a successful MSP website are invisible, intangible items like SEO, and conversion tracking. Tortoise and Hare added value to the CBS website launch by configuring additional plugins like anti-spam plugins, SEO plugins, site speed performance plugins, plugins to manage redirects and 404s, and additional plugins and configurations that set their website up to be used successfully. Additionally, TNHS facilitated the connection of CBS's website to marketing platforms like Google Tag Manager, Google Analytics, Google Ads, and LinkedIn Ads. TNHS also installed conversion tracking to measure marketing performance via form submissions and other valuable actions on their website.
Wrapping Up The MSP Website Launch
Computer Business Solutions is well positioned for success in the online marketing arena and is now equipped with the tools they need to apply for and procure market development funds, advertise their business, and make a strong positive impression on prospects they meet in the field via networking events that may visit their digital properties afterward. They don't have to guess what the impact is because they have the tools and data they need to measure their website's performance and make educated decisions about future investments in its continued growth. Need help with launching your own online marketing effort? Reach out to Tortoise and Hare today to learn more about our service offerings.