What Are Directory Citations In SEO?
Published: November 1, 2022
Last Updated: November 1, 2022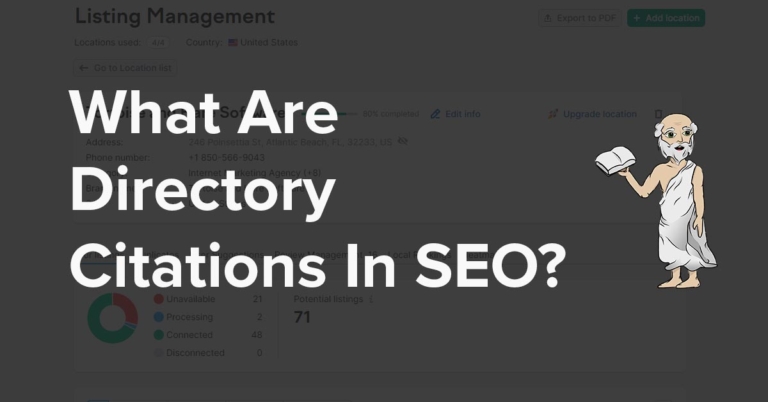 Add a header to begin generating the table of contents
Directory citations are a form of online business listing similar to a phone book entry in the real world. Yelp and YellowPages.com are probably the two most thought of when it comes to online business directories but sites like Facebook and Google also have their own directories and there are thousands with unique positioning in various niches. Home Finder and Angie's list are two prominent examples of business directories in the Home Improvement niche for example.
Search engines like Google use business directory listings as a trust signal and are looking for a consistent Name, Address, and Phone Number across the web to have confidence in the authenticity of a location and company. Name Address and Phone Number Citations are commonly referred to as NAP.
Do I Need Directory Citations?
If you have a locally focused business, directory citations are critically important for local SEO. For local results, people will actually browse online business directories to find companies to work with, especially niche business directories. They also help search engines understand when to show your site in search results. All search results are contextual to the searcher, someone searching for an IT company will be shown results of local IT companies and national providers. Search engines use directory citations to help understand for what locations your site qualifies as a local result.
Directory citations can still be useful as a trust signal for regional, national, and global providers, but they are not nearly as important as for local SEO. For businesses with broad targeting, like a SaaS provider, the SEO efforts required to drive traffic typically exceed any impact directory citations may have, so their useful life will be limited to an initial boost in traffic.
Are Directory Citations Backlinks?
Directory citations do count as backlinks for your site, but they are of limited use due to their publicly available nature. Most directory citations have a single link back to the website's home page. The link is typically either a brand name, "Tortoise and Hare Software", or a naked URL, "https://tortoiseandharesoftware.com/" The links are typically "NoFollow" backlinks which tells search engines not to count the link as any sort of endorsement. All of these equate to providing limited value as links. Remember though, low value is not no value. They can definitely serve as a nice kickstart for building your base of traffic on the web. When the count of backlinks to your website is 0, building 50-100 directory citations is a great way to give your website a pulse… and a backlink profile.
How Do I Get Directory Citations?
There are a number of ways to get directory citations. There are dedicated directory citation-building services where you can have your site distributed to hundreds and hundreds of online business directories. There are also subscription services that allow you to maintain verified listings in these business directories for higher trust and more visible listings. Popular business directories often serve as aggregation points that are frequently scraped for data by many other data service providers and business directories. There are a lot of options for distributing your business info on the web.
How Does Tortoise and Hare Help?
We offer directory citation distribution and listing management as part of our managed SEO service offerings. We use a combination of periodic bulk distributions to as many directories and aggregators as possible, and also use a white label subscription service to have actively verified and maintained listings in higher traffic higher importance directories. This serves as an effective solution for business directory management that can help increase your visibility on the web and control the messaging your business shares. Reach out today to learn more about our managed SEO offering.