GovTech SaaS Paid Search Advertising Case Study
Published: October 18, 2023
Last Updated: October 18, 2023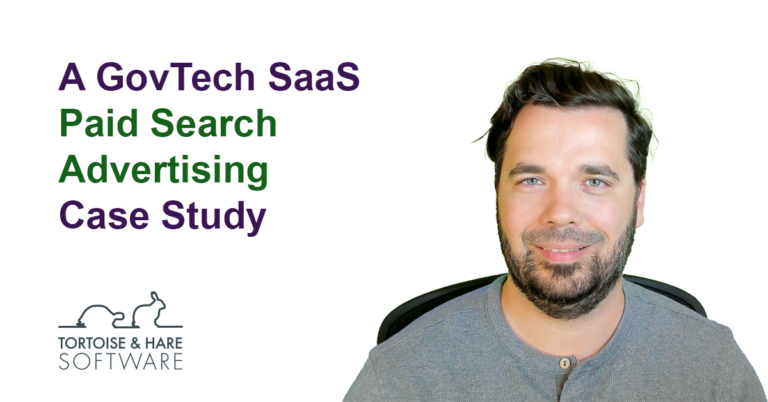 Add a header to begin generating the table of contents
In today's post, I would like to take a moment to break down some of the results we were able to generate for a GovTech SaaS via paid search advertising. I have to keep things somewhat high-level and ambiguous in this post due to contractual privacy reasons.
About The GovTech SaaS
The company we managed paid advertising for was a GovTech SaaS product provided on a B2B basis. The product was one that was aimed at providing value to a specific department within city, state, and local governments. It helped these types of government entities manage and track a specific type of niche request and helped streamline the workflows involved in handling those requests. The product was mid-market priced and required the help of a salesperson to onboard with a demo and customized quote given prior to purchase.
Previous Customer Acquisition Methods
As a niche GovTech product, the company relied on common GovTech sales vectors such as cold calling, relationship selling, and attendance at industry events. Like many businesses that relied on field marketing and outbound, the pandemic handicapped a lot of these efforts as events were shut down and increased pressure on cold-calling due to the digitization of so many businesses reduced appetites to field calls. This caused the company to launch a digital advertising program which they managed in-house with a small budget for quite some time with limited efficacy.
Outsourcing GovTech SaaS Paid Search Efforts
In the wake of the pandemic, the GovTech SaaS advertiser decided to enlist some outside help in managing the paid search efforts. After discovering Tortoise and Hare on LinkedIn, the GovTech SaaS provider decided to invite Tortoise and Hare to bid. Tortoise and Hare put in a competitive bid which demonstrated the agency's expertise and value provided. Tortoise and Hare was selected as the vendor to manage the paid search advertising efforts.
The GovTech SaaS Landing Page Build
As part of the bid, Tortoise and Hare quoted the design and development of a pay-per-click landing page build to support the advertising efforts. Tortoise and Hare used the in-house PRESTO landing page copywriting framework to craft a story and landing page that was aimed to garner interest from the target buyers of the software product. The landing page was built with a demo request call to action with a secondary option to live chat with a representative. Tortoise and Hare worked with the internal team to create the page based on the GovTech's knowledge of the customer and industry and Tortoise and Hare's experience building pay-per-click landing pages.
Connecting The Landing Page To The Google Ads Account
Tortoise and Hare launched fresh campaigns in the advertising account that targeted keywords with a high likelihood of converting based on Tortoise and Hare's previous advertising experience for technology companies. They targeted the ads towards the newly built landing page and configured conversion tracking to measure engagement and success of advertising efforts. They installed conversions for:
Demo Requests
Live Chat Starts
Phone Calls
Full Page Scans (Secondary Conversion)
Link Clicks (Secondary Conversion)
Tortoise and Hare also created remarketing audiences to retarget the website traffic in the future.
Tuning The GovTech Advertising Account
Tuning the GovTech Advertising account turned out to be a challenge. As a niche product, discovering the keywords B2G buyers may be searching for was difficult and there was significant overlap between consumers and other out-of-market searchers and B2G buyer keywords. Tortoise and Hare had to rely heavily on tuning the account via Google Ads machine learning capabilities to find the right keywords and connect to the right searchers. It was a slow start, but over a period of 6 months, Tortoise and Hare was able to tune the advertising account and start to deliver high-quality traffic to the landing page.
Results Generated For The GovTech SaaS Advertiser
After tuning the advertising account Tortoise and Hare was able to generate a stable flow of roughly 5 demo requests, 15 live chat starts, and 1-2 phone calls per month. The account was averaging nearly 30 conversions per month with some keywords converting as high as 25%. The advertiser was able to scale the advertising budget to roughly the maximum that available search inventory would allow. These are outsized positive results compared to the typical SaaS advertising account, but since the product was in such a niche space, competition was limited and the GovTech industry as a whole is less competitive than the average SaaS product. Overall the effort was a huge success and the GovTech advertiser was happy to have chosen Tortoise and Hare as their advertising vendor.