The Ultimate Guide To Paid Search On Google Ads For MSPs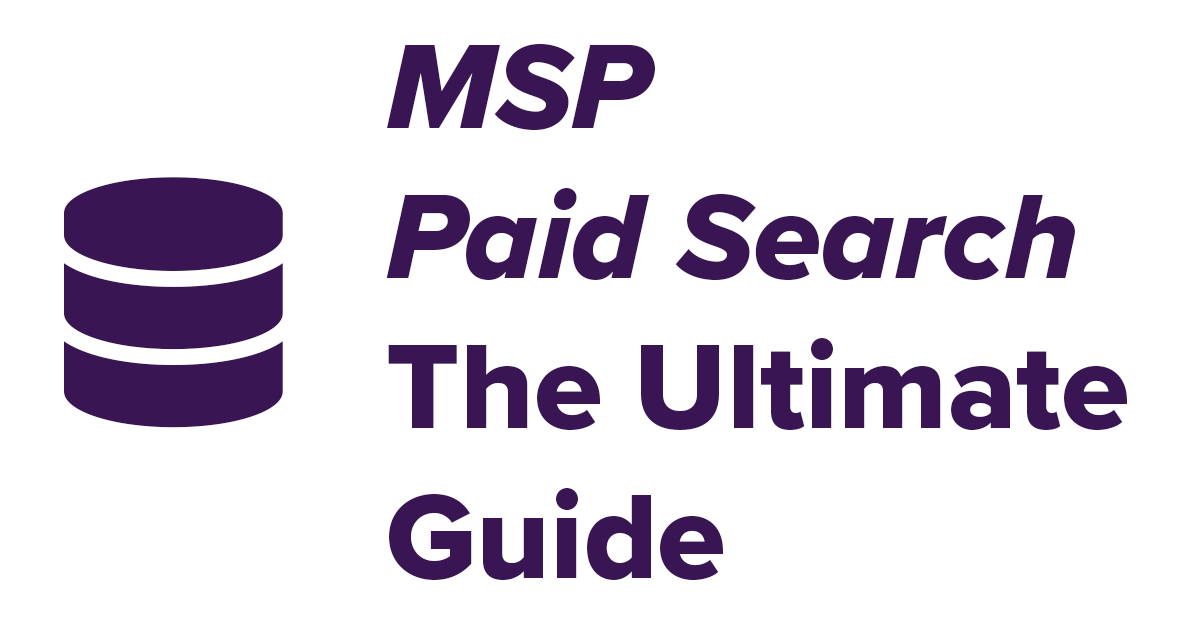 Join Thousands Of Other Founders, Innovators, And Marketing Leaders And Get The Latest Growth Insights.
Generating leads for your MSP can be a challenge. You spend so much time managing employees, making sure customer support tickets are answered, procuring hardware, and defending against cyber threats, there's hardly time to worry about networking and doing things like posting on social media. However, you'd like to grow faster, and due to some success with existing clients, a few extra dollars of budget are available to help acquire some new customers. Digital advertising accounts for around 60% of advertising budgets in today's world and is trending towards a 75% share as digital-only grows in importance. Ad spend is concentrated pretty heavily around a few select platforms. The largest driver of that spend is Google, accounting for 28% of digital ad spend, with Facebook close behind at 25%, and Amazon lagging far behind at 10%, the remaining share is divided amongst various platforms. For managed service providers, the 3 platforms you need to be advertising on are Google, Facebook, and LinkedIn. Google is the most intent-driven platform of the 3 and the one your MSP needs to master first before expanding into more brand-oriented spend to build your top of funnel on social media. In this post, we'll guide you on how to leverage paid search on Google Ads for your MSP.
How To Use Paid Search For MSP Lead Generation
Paid search is best used for MSP lead generation by focusing on bottom-of-funnel intent-driven keywords. These keywords are going to be highly contested nationwide, and for most MSPs, infeasible to rank for via SEO out of the gate. When customers are searching for terms like "IT Support Company" you want to be as close to the top as possible! The best way to get there for smaller MSPs is to buy your way to the top of the search results via running paid search campaigns on Google Ads.

Running paid search campaigns is not as easy as just selecting a few keywords and entering your credit card information though. In fact, this is a pretty easy way to spend a lot of money in a hurry, with 0 results. I've audited many ad accounts for MSPs and other B2B tech companies where an inexperienced agency, or an in-house person without paid search experience set up campaigns that were destined to fail from the onset.
If you're like a lot of MSP owners, you're a member of some sort of peer group, or at the very least have a few other MSP owners and techs at other companies you chit chat with and have heard that AdWords is a big driver of success for their company. You've probably also seen people bad-mouthing Google Ads on the internet, possibly on r/MSP. The truth is, they are both right. Google Ads can be a very powerful channel when mastered, but it's a lot easier to do it wrong than do it right.
Reasons Paid Search Campaigns Fail
There are several reasons paid search campaigns fail that I see over and over again. Running paid search campaigns on Google Ads is a very powerful way to generate a sustainable source of leads that can kick the growth of an MSP into overdrive, but throwing money at the channel before you're ready will lead to disappointment. You've got to check a few boxes before beginning your advertising campaigns. The top reasons I see paid search campaigns fail are:
Poor market positioning
Poor digital presence
Poor website quality
Poor landing page quality
Poor ad account quality
You'll notice that poor ad account quality is the last factor on the list and that's with good reason. A lot of the time paid search campaigns fail for reasons that aren't even related to the ad account in question. MSPs just started advertising way too soon and had poor marketing foundations to begin with. Google Ads is competitive, and people will comparison shop, not everyone will, but the desirable clients that are quality leads will, and if you want to connect with those types of companies then you have to be competitive in the marketplace.
Market Positioning And Paid Search Strategy
As an MSP it can be tempting to just take on any business that comes your way, as you grow you may put minimum head counts such as "greater than 10 pcs". This might work for smaller MSPs, but as you grow and the complexity of operations increases you almost have to raise your prices to continue that growth and start to move upmarket. The key to this is developing positioning that allows you to charge a premium. You've got to evolve your MSP into thinking about the types of customers you can best serve and use those customers as a spearhead for growth. Geoffrey Moore stressed the importance of this concept in his now influential book, Crossing the Chasm.
We have an MSP here in the Jacksonville area called DPC technology. They now serve customers in a variety of verticals and have grown like a weed, but to cross the chasm of initial growth, they focused on managing IT for dentists. In fact, they used to be called Dental PC, but re-branded to DPC technology after they secured a stranglehold on the dental market and decided to diversify from there.
Looking at your business, the market you want to target, your competitors, and developing a market positioning is one of the critical success factors we see for paid search campaigns. This allows you to focus your advertising on budgets on more specific keywords, create landing pages that support that positioning, and increase your conversion rates.
Paid Search And MSP Digital Presence
I recently spoke to an MSP out in Texas about doing some SEO for them and one of the first things I pointed out to them is they didn't have any social media pages! I get it, social media has no shortage of drawbacks and risks, and MSP owners in particular often have a particular distaste for social media due to privacy concerns. Potential MSP customers however, often don't feel the same way. Millennials, who are social media power users, are increasingly moving into positions of purchasing authority, or at the very least initial procurement research, and they will absolutely check a companies social media presence and use it as a trust factor for determining the legitimacy of a business. Boomers are much more likely to rely on and trust digital reviews on Google, Yelp, or other review sites. These aren't limited to generations either. See this article on how generations shop for more insights. MSPs need to make sure they have at least minimally active social media profiles with quality on-brand graphics and a handful of reviews on Google, or other review sites, before getting started on paid search.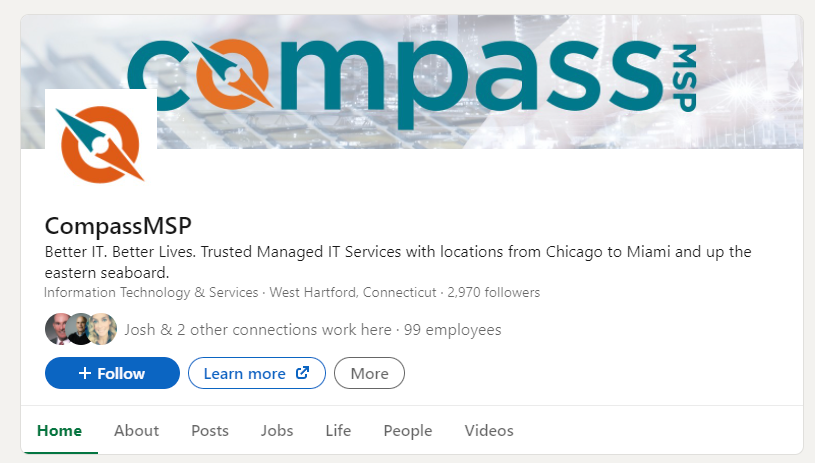 Paid Search And MSP Website Quality
Smaller MSPs significantly undervalue their website and its impact on digital marketing success. You can see from this poll we conducted of website spend by MSPs on Reddit and the IT Pool Party slack group that most MSPs spend under $2,000 on their MSP websites. This poll might be a touch biased on the low end, but you can also see that at least 10% of MSPs spent $25,000 or more on their websites.
If you'd like to contribute to the poll you can respond here:
How much did you spend on your MSPs website?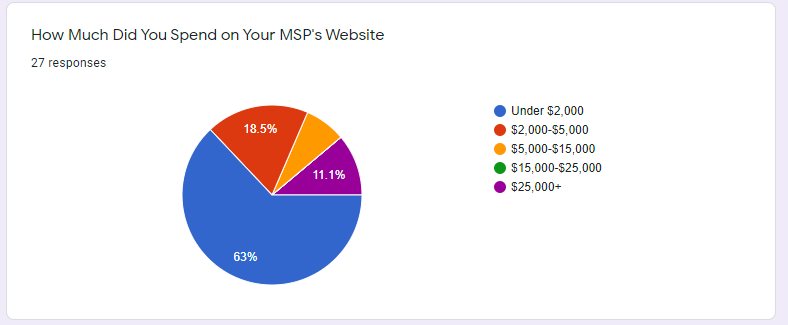 Qualitatively I can tell you that the majority of MSPs don't generate any leads from their website and it's not surprising to see that the majority of them invest almost nothing in it. You get what you pay for, and as someone who has looked at a lot of MSP websites, I can say for certain there is a direct correlation between website quality and the number of employees an MSP has according to their company LinkedIn profile.
A quality website will have thought put towards branding, site structure, copywriting, photography, and be optimized for lead generation. This post isn't about websites, but suffice it to say that having a quality website is a key prerequisite for success in paid search.
In many cases you'll send someone to a PPC dedicated landing page as part of your campaigns, however, visitors will often do one of two things as part of their conversion journey.
Open up a new browser tab and google the company name and look at the website while they are on the PPC dedicated landing page.
Close the browser, write down the name of the company, continue to do research and then visit the website directly later.
In both cases, the website can have an impact on a paid search campaign.
Paid Search Campaigns And Landing Page Quality
The next significant factor, and probably the most important one of them all, is the landing page that you are sending your paid search traffic to. There's a lot of factors that go into a quality landing page that are beyond the scope of this post. Some factors are:
A desirable offer that matches searcher intent
Social proof via testimonials
An easy way to convert
The information that the user needs to make a decision
Visual appeal
Clear layout
Persuasive copy
Check out these 30 post click landing pages examples for lead generation.
Also, check out our PRESTO landing page copywriting framework.
Landing page development and design is one of our core service offerings and we've helped companies generate over 35,000 conversions ranging from calls, to contact form fills, to newsletter subs, to demo requests, and more. These conversions have helped companies generate millions in new revenue for their businesses.
Paid Search And Google Ad Account Quality
Most of the time when someone contacts us about their Google Ads paid search campaign performance the issue is one of the upstream issues described above. That said there are almost always ways their ad account can be improved as well. Google makes it very easy for people without any paid search experience to create campaigns in just a few steps by casting an extremely wide net and leaning heavily on machine learning and automation to help the ad account find conversions.
By default ad accounts are created in express mode or smart mode, which basically gives license to Google to treat your ad account like a shotgun. They will advertise blindly at everything remotely related to the targeting settings and let you pray for conversions. For MSPs, this can result in a ton of calls from people looking to connect with cable companies, mobile phone carriers, and a range of other tech support/it support related queries for consumers. Yes, that means you're getting "leads" but they're mostly junk.
MSPs need tighter control of their ad accounts to keep their ads focused on business IT support-related queries. To do this you need to switch your ad account to expert mode and put more work into building out your campaigns, maintaining them, and keeping up with the constant stream of changes that Google is making to the platform.
Read more about smart mode vs expert mode in this support article.
Hiring An Account Manager To Run Paid Search Campaigns For Your MSP
Managing a Google Ads account takes a lot of time. Smaller budget accounts often perform much better without using automation. Automation is more effective when a pipeline is already established and there is sufficient conversion volume flowing through the account. In many cases MSPs are going to be better off using manual bidding strategies. Manual bidding strategies need a lot more maintenance work to ensure that bids are adjusted properly to both deliver the ad campaign, and have it bring in leads.
Running a manual campaign also requires a lot of expertise and practice. Realistically this is just something a lot of MSPs don't have in-house. A lot of in-house marketing managers are going to be more concerned with planning events, hosting webinars, posting on social media, and taking care of more traditional marketing activities and not focusing on the more technical aspects of managing paid search campaigns.
Hiring an account manager to tune your accounts is often a far more sensible choice that will save you money and save you time in the long run when compared to attempting a do it yourself approach. However, if you want to go with the DIY approach, we've put together the following information below to help you work through the process.
Google Ads Account Setup
The first step will be to create an account with Google Ads. If you don't have one yet, you can create one here. Again, by default your account will be created in express mode or smart mode. You'll want to switch this to expert mode by click the tools icon in the top right and selecting switch to expert mode.
The Google Ads UI is changing constantly, and sometimes I haven't seen this option available and have had to contact support to get them to switch it over to expert mode. If you don't see the option you may need to do the same. If you've successfully switch over your UI should have a lot more features and configuration options and look similar to the below:
Securing Your Google Ads Account
Once you've swapped to expert mode, the next step will be to secure your Google Ads account by enabling multi factor authentication and creating an allowed domains list. Click on the tools and settings icon in the top bar and click on access and security.
By default, you will be taken to the users tab where you can add any new users you need to your account. I recommend having at least one backup user in case your primary account is compromised or lost. Once you've added any new users, be sure to swap over to the security tab and enable 2 factor authentication for your account and create an allowed domains list as shown in the screen shot below. Follow the prompts to complete the multi factor authentication setup which will periodically require you to use your phone to authenticate in addition to a password. Don't skip this step as hackers can get access to your account and run campaigns on it and you are liable for any activity that happens on your account!!!
Configuring Linked Accounts
If you have other Google Accounts such as Google Analytics, YouTube and Search Console, now is a good time to link those accounts together to make sure you're getting quality data flowing across accounts, and better reporting capabilities. Go to tools and settings > linked accounts. Click the details button for each of the accounts you would like to link and follow the on screen prompts to link each of the accounts. We recommend linking:
Google Analytics
Google Analytics 4 (GA4)
YouTube
Google Search Console
You may need to be signed in with the same Google Account you use across all of those products in order to properly link them.
Configuring Basic Remarketing Audiences For Your Paid Search Campaigns
Coming soon…
One of the first questions I get when talking about google ads is how much is a click? It's a fair question, but asking it is the wrong way to think about advertising via Google Ads. This is an expense focused question and the whole purpose of engaging a Google Ads management agency or getting…
As a managed service provider, you offer a great service to your clients that helps them run their business more effectively, securely, and frees up their time. The problem is, if they can't find you then they can't hire you. Businesses might not even know exactly what they are looking for, much less how to…
Advertising your business on Google Ads is a fantastic way to drive traffic to your website and generate leads for your company. Many companies don't know where to start when it comes to creating campaigns, or structuring their account in general, so today I wanted to go over a few of the essential Google Ads…