Food Safety Trainer Marketing Case Study
Published: March 24, 2022
Last Updated: October 29, 2022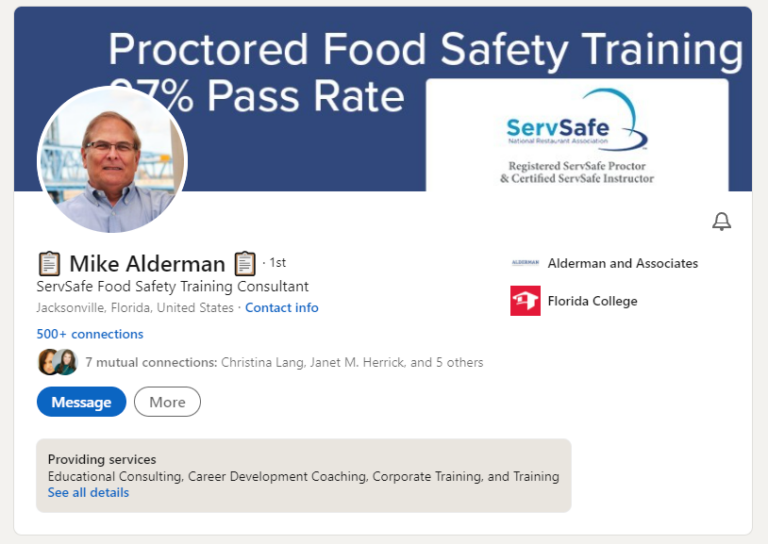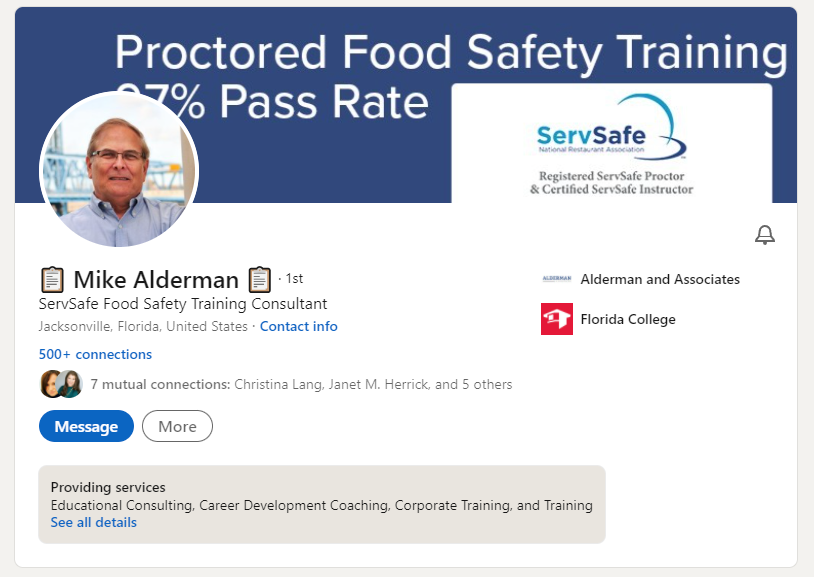 Add a header to begin generating the table of contents
In todays post we'll be talking about how we helped a food safety training consultant update their branding, increase exposure, and start generating more leads for their proctored food safety training company. Alderman & Associates is a food safety training consultant delivering in person food safety training to help people get their ServSafe food safety certifications.
Problems They Were Facing
Alderman & Associates reached out at the start of the coronavirus pandemic for help with a long overdue website update. Their current website wasn't even ranking for their brand name on Google and their existing site was currently compromised by malware. They wanted to update their website and start doing some marketing to help find new food safety training clients to replace churned customers brought on by the pandemic.
Solutions Implemented
As a small company in a market facing significant challenges related to lockdowns Alderman & Associates wanted a cost conscious website. We walked them through the options and helped them choose our starter package website package, which is designed specifically for small brands and individual consultants. We helped them craft messaging and create a few landing pages to support their service offerings. We were able to put together a practical, but nice looking website that highlighted some of the value of their services and made it easy for prospective customers to contact them.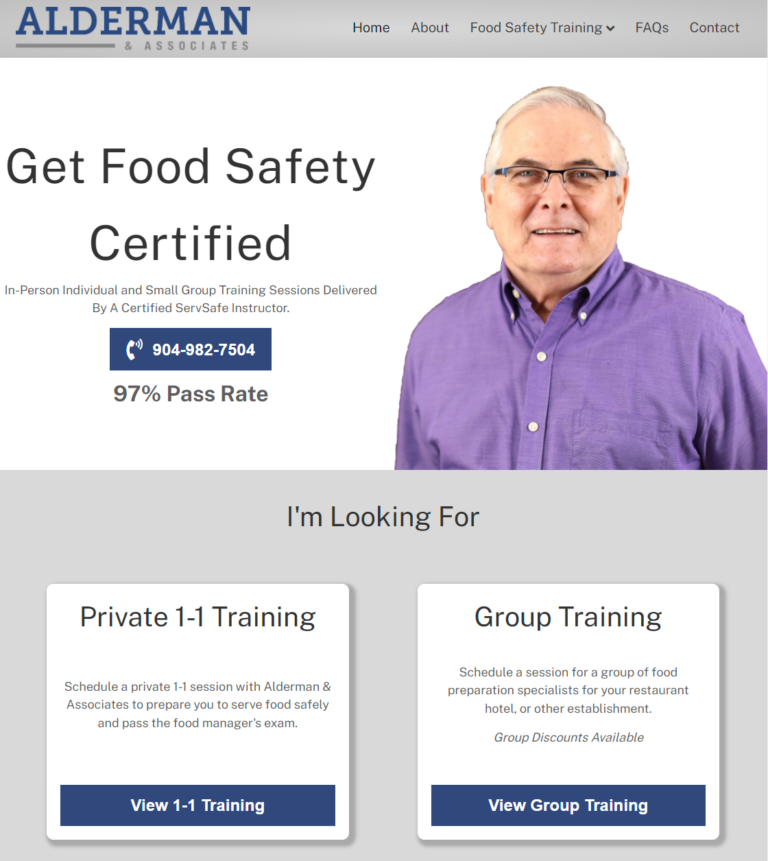 Next we helped them update their social media pages and write consistent copy that highlighted the in person nature of the proctored training, the come-to-you on site service quality, and the 97% pass rate for students of the training. We also created nice looking graphics that were on brand and gave the social media page a crisp look.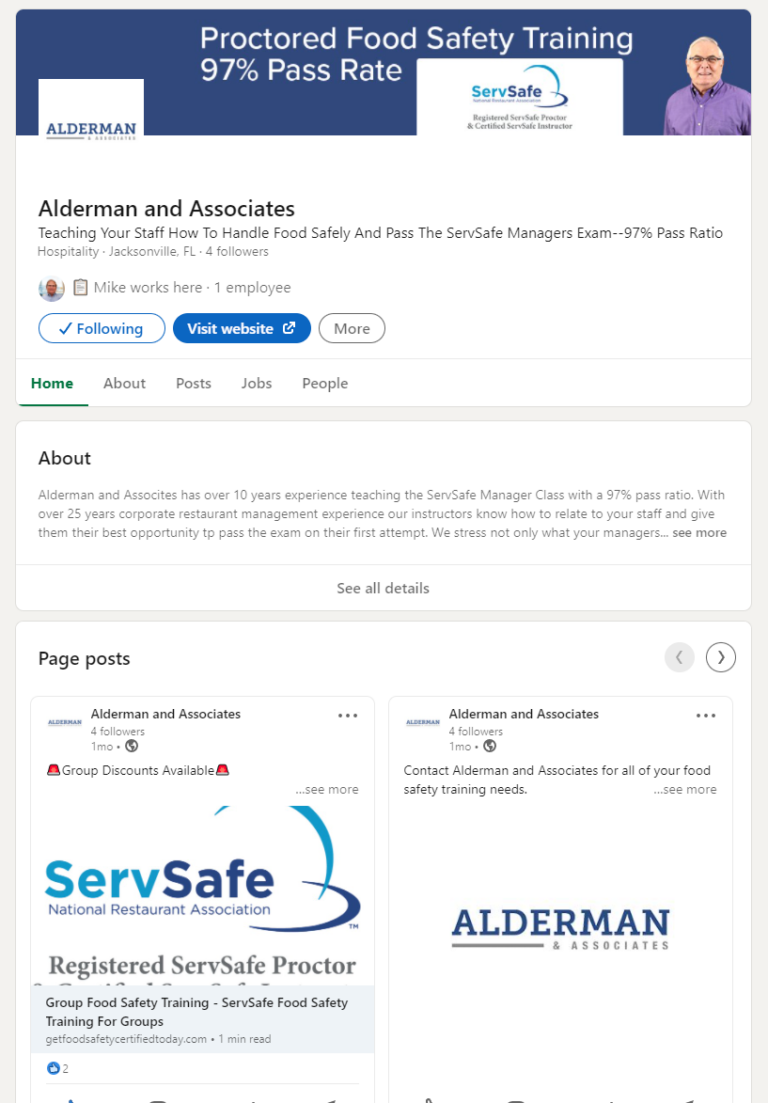 We also updated the owners personal LinkedIn page and optimize their profile for lead generation. We delivered a 1 on 1 training session for how to leverage LinkedIn for lead generation and connect with target buyers via the platform.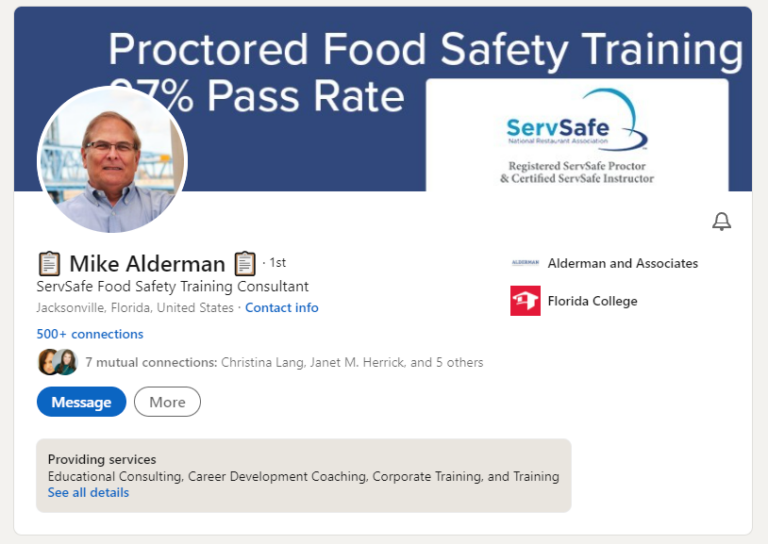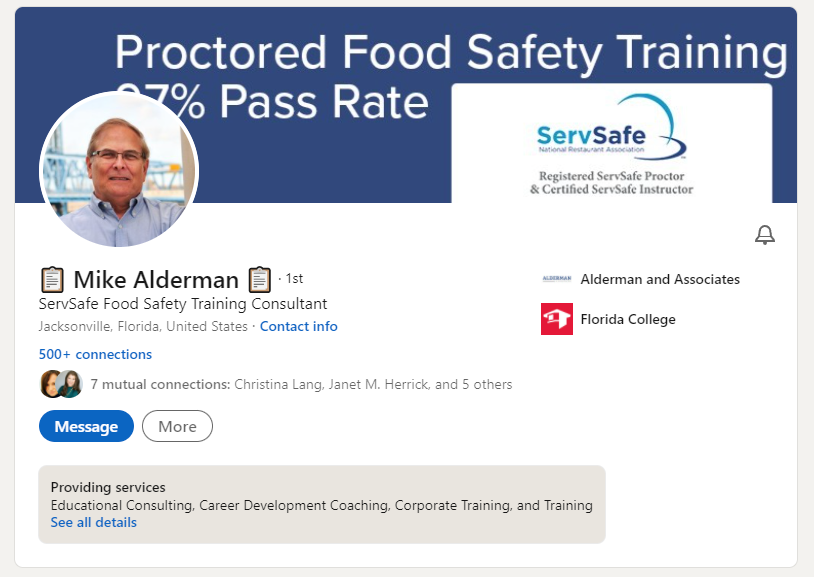 Lastly we set up a Google Ads account for them and set up advertising campaigns to help them bid on people searching for food safety certifications.
Results Generated
The client was very satisfied with the updated look and feel of their new digital assets created. Our initial advertising campaign on Google was effective at generating leads for the company. Dozens of leads contacted the company, but ultimately with the pandemic there was little demand for in person food safety training, so we paused the campaign as most people opted to go with online training.
We did learn some valuable lessons from the campaign though and decided to re-position the company to focus on B2B marketing to restaurant owners who we found were much more likely to value group training in person at their place of business. After the pandemic subsided and lockdowns were lifted, demand started to pick back up. People previously advertised to previously started reaching out for help in self service fashion via the website, and via LinkedIn to get group trainings booked for their restaurant staff.
The alderman website also started ranking for keywords related to food safety training in the local area, which resulted in people organically discovering and contacting the brand. We are still working with the client today and advising them on SEO, email marketing, pricing, positioning, and marketing strategy which they execute in DIY fashion to stay within budget.