How To Choose The Right Marketing Agency
Published: May 25, 2021
Last Updated: October 29, 2022
Add a header to begin generating the table of contents
Digital marketing is one of the most competitive and saturated fields in the universe. Just about anyone can start a digital marketing agency in about 4 hours with a laptop and an energy drink. Every time I line up a new client I breathe a huge sigh of relief because it's going to be so FREAKIN EASY to handle marketing for them when compared to trying to drum up business for a marketing business. Just about every way you can possibly sell a marketing related service has gobs of blog posts, companies, cold emailer, cold callers, and everything in between. If you're reading this post you're probably wondering how to choose the right marketing agency to service your needs. It's a tough question and many times there are multiple right answers, so it really becomes a question of what's the best agency to fit your unique circumstances.
Most Agencies Are Crap
If there's one thing agencies are good at, it's putting up a smoke and mirrors show. There are an astounding number of agencies that go out of business within 5 years and even fewer that make it to the 1MM ARR mark. I can prove it to you in one LinkedIn post: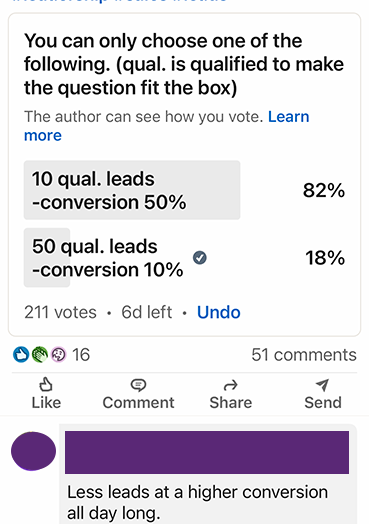 I recently saw this poll on LinkedIn where over 80% of marketers voted to have 10 qualified leads at a higher conversion rate than having 50 qualified leads at a lower conversion rate. Unreal! I will take more qualified leads over less qualified leads any day of the week and I think my clients would agree. This poll just goes to show that so many marketers get caught up in buzzwords and "data driven decision making" and completely forget what the end goal of what their doing is. To drive more revenue for the companies they serve. Interestingly enough this poll also shows a common pattern across marketing and many other disciplines of an 80/20 pattern, where the 20% is going to drive the most results and the other 80% is just fluff.
This is the first thing to be aware of when working out how to choose the right marketing agency. Most agencies are just the 80% fluff and aren't driving any real results. So be suspicious and make sure your marketing provider has been fully vetted. We'll come back to how to vet out a marketing agency later in this post, but first we'll cover how to narrow field down a bit.
Side note on low conversion rates – this can actually be a good thing because it means you're getting into enough deals. See: A Low Win Rate Is Just A Huge Opportunity In The Making
Should I Go With A Local Marketing Agency?
One of the first things you want to consider is whether or not you want or need to do business with someone locally. The first thing to be aware of when working with a local agency though is that local marketing is considerably easier than regional or national campaigns. Because of this, the in-house talent at your average local marketing agency is probably going to be staffed for working with very small businesses, with maybe a handful of larger clients. This comes with the benefit of pricing that makes better sense for local business budgets. Local agencies are usually great fits for local companies that most everyone understand intuitively, such as:
Realtors
Plumbers
Electricians
HVAC
Dentists
Local boutiques & retail stores
Home Builders
You get the gist.
Local marketing agencies are usually not a great fit for companies that sell complex products that require a more consultative sales approach such as:
Attorneys
Software companies
Information technology companies
Accountants and financial services firm
Ecommerce stores with no retail location
For these types of companies you almost always want to go with a vertically specialized marketing agency, meaning they serve a specific industry and leverage the advantage of industry specialized expertise to help bring products and services to market. Tortoise and Hare Software is a vertically specialized marketing agency serving the technology sector for instance. We help technology service providers such as SaaS companies, cybersecurity firms, and MSPs with their digital marketing.
Local marketing agencies are also usually not a great fit for running large scale national and regional campaigns. For these you will likely want to reach out to a larger in size full service agency.
Use this information to conduct a few google searches for companies that match your criteria. Hint, companies that are advertising on Google and companies that are appearing near the top of search results can be a good indicator of quality agencies. Make sure to check a couple pages of search results to find your perfect match and don't just pick the top ranker. Pick 3-5 as a baseline for consideration and start the vetting process.
How To Vet A Marketing Agency
The next step on on determining how to choose the right marketing agency is to figure out how to vet which ones you want to work with. There are a number of ways you should be vetting out a potential marketing agency.
Look for active thought leadership content
Look for in-depth case studies that you can read
Look for client reviews and testimonials
Call the agencies clients and get the real story
Active Thought Leadership Content
Good agencies should be leading by example, and the best way to do this is for them to be good at marketing their own businesses. I know of 2 or 3 good agencies in just about every area of marketing that pop up time and again in search results and on social media feeds, because they know what they are talking about and they publish educational content to prove it. Make sure to check the last published date of articles on their blog. If there isn't anything within the past month, run away.
Read Their Case Studies
It's really easy to create some numbers on a 1 pager that will blow your socks off. A 500% increase in leads generated doesn't mean much if the company originally wasn't generating any meaningful leads to begin with. Look for case studies that provide some detail on what was actually done and how it made an impact. Good agencies won't give away all their secrets in a case study, but they will provide a level of transparency that goes beyond the surface level wins.

Read The Company's Reviews
See what people have to say about the agency. Customers that really like the service will say something great about it, and they will say something specific, not just surface level BS such as "Danny or Kristi over at X marketing agency is awesome!". Look for customers raving about specific elements of your agencies services that indicate real performance.
For instance one of our reviews reads:

"Tortoise and Hare Software has established the foundation and executed on the analytical strategy with our Adwords account that we have been wanting to implement for years. Within the first few months of working with them we have seen an overall increase in conversions as well as more efficiency with a lower cost per acquisition."

Google Review
Call The Agency's Clients
This one might make a few competitors stir uncomfortably in their seats while reading, but it's a step that too many people skip out on and it's the fastest way to find yourself working with a mediocre agency. You should probably wait until you get further along in the process to do this step, but when your ready to pull the trigger – do your due diligence. Call and talk to some current or former clients of the agency and get the real story.
Wrapping Up How To Choose The Right Marketing Agency
We hope we've provided some insight here into how to choose the right marketing agency. It's a complex buying decision with a ton of choice. But you can narrow down the field with some of the criteria mentioned in this post and put your prospective providers through a vetting process to determine if they will be the right fit for you. Did we leave anything out? Questions on the process of selecting a marketing agency? Let us know in the comments below.