3 Key Elements Of A Successful Sales And Marketing Transformation
Published: May 17, 2021
Last Updated: October 29, 2022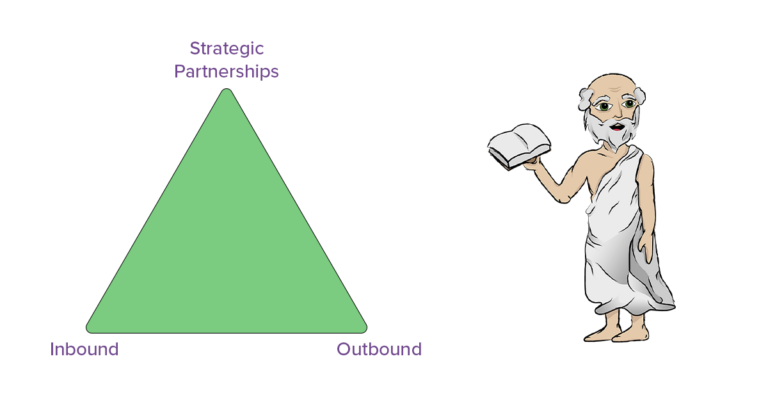 Add a header to begin generating the table of contents
Generating a steady stream of leads and growing annual revenues at a rate that satisfies you, your investors, and your employees can be a significant challenge. It requires transforming your organization into a sales and marketing company as much as it does providing the product or service that your selling. I've worked in various capacities for a number of highly successful businesses and a number of zombie companies that are barely surviving and seen the problems and successes that each of them face. In today's post we're going to talk about three key elements that each of the most successful companies employ to drive annual revenues forward, increase their pricing power, and become a healthy business.
3 Elements Of A Successful Sales And Marketing Engine
The best companies that never seem to have a shortage of qualified leads and business opportunities to pursue employ each of these 3 key elements with great success: Inbound, Outbound, and Strategic Partnerships.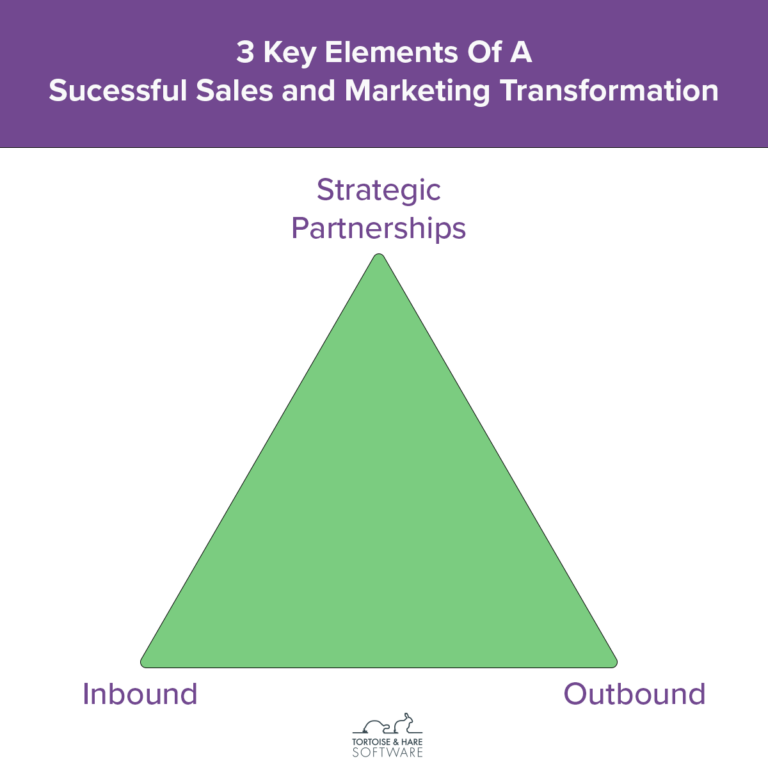 Each of these elements forms a critical method for broadening reach, allowing new prospects to discover your company, and helping them to understand how you can help them! Let's talk briefly about each one.
Inbound
Inbound is all about placing advertisements and content in places that your customer base hangs out to help them discover and contact your company in self service manner. Popularized by HubSpot, inbound marketing describes a scenario where companies lead generation optimized websites and use content marketing, pay per click ads, social media, email drips, and other methods to drive visitors to the website, and capture existing demand for in-market prospects. We specialize in inbound marketing for technology service providers such as SaaS companies and Managed Service providers here at Tortoise and Hare Software.
Inbound marketing is a fantastic tool to scale up what's working and connect with people who are already searching for what your company offers. It's not as great a fit for companies that are trying to create a category and educate a market on new service offerings. It's also not great to reach people who may be a good fit for your services but aren't necessarily in market for your services because they don't fully understand how your service offerings can benefit them. This is where outbound comes in, which we'll talk about next.
Outbound
Outbound describes proactive outreach to prospective customers. Cold calling, cold emailing, attending trade shows, and cold outreach via other means such as direct messaging people on platforms like LinkedIn are all ways outbound is done. When things have gotten sticky or slow at Tortoise and Hare software, cold calling has been an effective method to generate new business. Outbound done at scale usually involves buying email lists from data providers of relevant audience and sending them A/B tested cold pitches with refined messaging to help generate appointments, demos, and the like. Companies will also have a small army of business development reps making 50 calls a day with power dialer software to augment the process. Often times these reps are following up with people who have already been hit with a cold email, so there's an element of warmth when the rep calls.
Outbound is a great fit for companies that need to proactively reach out to their target market to find new business. Small companies with no brand power may need to rely disproportionately on outbound tactics to connect with prospective customers, but even established companies with new products and those that are trying to create a new category that the market may not know about can effectively use outbound to drive new business. Outbound efforts can also be scaled up during a recession when periods of existing demand for services are low, and the need for demand generation via proactive outreach and education is greater.
Outbound marketing can be very effective but is usually more expensive. Buying prospect lists is very expensive and a quality list can be $10,000 or more, plus the cost of people to run email campaigns and business development reps to get on the phones or out in the field. This is one of the reasons founder led sales is so important. Founders stand the most the gain by success, and will be willing to put in those extra 5 calls a day for no incremental cost to the company.
Strategic Partnerships
The first stage of strategic partnerships is just the plain old referral. You know some people that know some people that can refer some people, and you work to maintain these relationships. Referrals are great, and there's more than a few companies that run a cozy lifestyle business based almost entirely off of referrals. More mature sales and marketing organizations are going to put more effort into creating legitimate strategic partnerships however. They will proactively identify companies that are a collaborative fit to serve and end customer. For instance we at Tortoise and Hare Software look to partner with Venture Capital firms. They are interested in helping the technology companies they have invested in grow and create their marketing pipelines but often times want to focus on the investment and advisory component without getting their hands dirty in actual marketing implementations. We're interested in helping technology companies out with the marketing, and many times they are interested in growing into the next funding round, at which point they become the ideal referral for a venture capital firm. This non-competitive referral relationship synergy creates a strategic partnership opportunity.
What types of companies can you partner with that would help drive referral business to your company?
Is the referral relationship bi-directional or does it only flow one way?
What's an appropriate compensation that you could provide your partners to incentivize ongoing referrals?
Synergies Between Inbound, Outbound, And Strategic Partnerships
Companies that employ all three of these sales and marketing vectors enjoy significantly more leads and more sales success when compared to companies that employ only one or two.

Effective inbound marketing infrastructure serves as a backstop that helps nurture prospects that have been touched by an outbound rep or sent into the funnel by a strategic partner. After a rep contacts a prospect, prospects will often visit the website and enter a funnel or become eligible for retargeting advertisements thereafter. Companies that invest adequately into inbound, outbound, and strategic partnerships typically get better returns from all when compared to using any method in isolation.
Have you paid adequate attention to all of the 3 key elements of success in transforming to a sales and marketing driven organization? Are you generating enough leads for your company to hit your growth targets? Do you have an adequate inbound infrastructure and marketing funnels set up to supplement the efforts of your outbound teams and referrals from strategic partners? Let us know in the comments below.