Published: October 21, 2023
Last Updated: December 4, 2023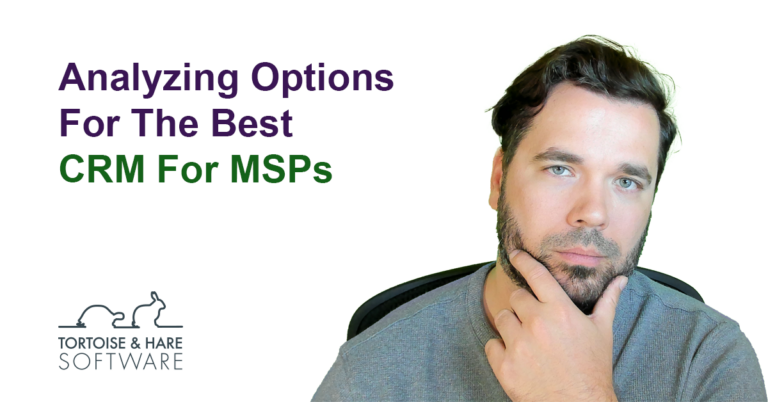 Add a header to begin generating the table of contents
Managed Service Providers (MSPs) play a pivotal role in the modern business landscape, ensuring the smooth operation of IT infrastructure and technology solutions. To excel in this competitive field, MSPs must harness the right tools to streamline their operations, bolster customer satisfaction, and maintain robust client relationships. Among these essential tools is a Customer Relationship Management (CRM) system. In this post, we will explore some of the best CRM options available to MSPs, including popular choices like HubSpot, Salesforce, Zoho, ActiveCampaign, Monday, GoHighLevel, SugarCRM, and MSP-specific CRMs. Additionally, we'll delve into the critical role of CRM systems in improving sales and marketing efforts for MSPs.
A Quick Note On Choosing The Best CRM For YOUR MSP
There is no one-size-fits-all best CRM for MSPs. A 30 million dollar turnover MSP who is quoting 10-15 customers per month is going to have very different needs than a 5-person shop that just needs to keep track of the odd referral coming in. My intent with this post was just to give you some options and links to click on to streamline your research process. Happy shopping!
Why MSPs Need CRM Systems
CRMs are a cornerstone piece of software that helps MSPs manage business contacts and develop better relationships with prospects and customers. But the CRM market is filled with options and each choice has tradeoffs that may make one CRM a better fit for an MSP than another. The best CRM for your MSP will depend on the size and other business characteristics of your MSP. We've tried to make some notes about which CRMs we think are good fits for MSPs with specific concerns. Before diving into the specific CRM options available, let's underscore why CRM systems are indispensable for MSPs:
Effective Lead Nurture
Probably the most important reason to have a CRM in place and the one that activates the need is to effectively nurture MSP sales leads. Having a platform that integrates contact management with email marketing and allows MSPs to schedule drip campaigns and develop automation sequences to stay on top of prospects' minds is a very powerful tool. Robust email marketing plans help MSPs drive prospects down the funnel and close more deals with less effort.
Centralized Client And Prospect Data Management
MSPs often deal with a diverse client base, each with its unique needs and preferences. CRM systems act as centralized repositories for client data, ensuring that critical information is readily accessible. This consolidated approach safeguards against details slipping through the cracks and enables MSPs to deliver personalized service. Since MSPs often have PSAs for tracking customer interactions, they are typically leveraging CRMs for sales and marketing-related data management, but may also use them for client communications.
Enhanced Client And Prospect Communication
Effective client communication is paramount in the MSP industry. CRM systems empower MSPs to track client interactions, set reminders for follow-ups, and even automate specific communication processes. This, in turn, results in more efficient client relationship management, ultimately leading to increased satisfaction and client loyalty.
Streamlined Sales and Marketing Efforts
The primary objective of any CRM system is to streamline sales and marketing efforts. MSPs can segment their clients based on various criteria, facilitating the targeted outreach of specific groups through tailored marketing campaigns. Not only does this save time and resources, but it also amplifies the effectiveness of marketing initiatives. If your pipeline grows to more than even a handful of leads per month, trying to keep track of leads and follow up adequately using a manual approach becomes unsustainable.
Deep Customer Insights
CRM systems offer valuable insights into client behavior, preferences, and needs. MSPs can harness these insights to anticipate client requirements and proactively address issues. This predictive approach not only enhances customer satisfaction but also sets MSPs apart from the competition. These insights can also help feed marketing plans and identify the segments of the market to target, understand the profitability of potential customer segments, and develop better messaging for campaigns.
How CRM Systems Enhance Sales and Marketing for MSPs
Now that we have established the significance of CRM systems for MSPs, let's explore how these systems can elevate sales and marketing efforts.
Lead and Opportunity Management
CRM systems provide robust lead and opportunity management features. These tools help MSPs track leads and opportunities through various stages of the sales pipeline, ensuring that no potential client is forgotten and that opportunities are seized promptly.
Client Segmentation
Effective marketing hinges on delivering the right message to the right audience. CRM systems enable MSPs to segment their clients and prospects based on factors such as industry, location, service history, and more. This targeted approach enhances the efficiency of marketing campaigns.
Automated Marketing Campaigns
Many CRM systems offer marketing automation features. MSPs can create automated email campaigns, schedule follow-up emails, and systematically nurture leads. This not only saves time but also ensures that leads are consistently engaged, fostering greater conversion rates.
Improved Client Retention
Retaining existing clients is often more cost-effective than acquiring new ones. CRM systems help MSPs track client satisfaction, monitor contract renewals, and proactively address any issues. This approach fosters long-term relationships and drives customer loyalty.
Enhanced Reporting and Analytics
CRM systems provide powerful reporting and analytics tools. MSPs can analyze the success of marketing campaigns, track the sales pipeline, and measure customer satisfaction. These insights enable data-driven decision-making and continuous improvement.
Consistency and Accountability
CRM systems introduce consistency in sales and marketing processes. They can help MSPs set and monitor key performance indicators (KPIs), ensuring that sales and marketing teams are held accountable for their actions and results.
Best CRM Options for MSPs
If you browse around on Reddit threads on CRMs or ask about the best CRM for MSPs in chat groups on Slack or Discord you'll inevitably hear some of these options over and over again. The options below are popular options across industries, including the MSP sector.
HubSpot: The Most Popular And Well-Known Choice
HubSpot is a versatile CRM platform that offers an extensive suite of tools designed to manage customer relationships effectively. From contact management to email marketing, marketing automation, and sales automation, HubSpot provides a user-friendly interface and robust integration capabilities. HubSpot is one of the most popular CRMs in the channel, but it's an expensive and robust tool with many modules but can also be used for free if all you need is contact tracking. Don't choose HubSpot just because it's popular. It can also hinder growth because of its cost and complexity whereas a simpler CRM can do the trick until you're ready to upgrade to a more robust platform. Many smaller MSPs go with HubSpot just because of the brand and the low cost of entry, but my advice would be to steer clear of HubSpot until you've got 10 leads per month flowing in, the budget to hire HubSpot consultants to help you set it up, and a marketing or sales ops person that can administer HubSpot on an ongoing basis. It's hard to switch CRMs and HubSpot can definitely get its fangs in you and become a burden to manage. By the time you realize this, you're pretty much stuck and have to "grow through" the pain.
ActiveCampaign: A Great Fit For Small MSPs With A Marketing Focus
ActiveCampaign is an all-in-one marketing and sales automation platform, ideal for boosting customer engagement. It offers email marketing, marketing automation, and CRM functionalities, empowering MSPs to nurture leads and strengthen client relationships. Some people who got their start with HubSpot or Salesforce at a larger company will only think of ActiveCampaign as an email marketing tool, but these people have probably never bootstrapped a company. It's simple, cost-effective, and isn't bloated with features you don't need but still have to pay for. ActiveCampaign is my preferred CRM and the one I recommend to my clients. I think it's a great fit for MSPs under 5 million in annual revenue and can be used as a precursor to HubSpot. It's also the CRM we currently use at Tortoise and Hare. I prefer ActiveCampaign for a couple of reasons.
Top-notch email marketing
Simple website tracking to see which contacts are visiting your website
Simple lead-scoring feature
Lower cost than more robust platforms
Simple to use as far as CRMs go
Stays focused on marketing/lead gen (other CRMs will have sales and customer support features)
Not feature bloated
Pipedrive: A Great Fit For Outbound Sales-Focused MSPs
Before migrating to ActiveCampaign, I previously used a combination of Pipedrive and MailChimp. Pipedrive is a pretty solid product, but in my opinion, it's best used for organizations whose focus is on outbound sales and not online marketing. The deal tracking, activity tracking, and low cost and complexity CRM features are better than ActiveCampaign, but the email marketing capabilities are just not there – and quite frankly they have a long way to go to be competitive in the future. They are much more set up to send plain text emails that are follow-ups to offline sales conversations. I didn't care for the bi-directional integration with MailChimp either, too much duplication. I think the CRM was likely developed for outbound sales teams by outbound sales teams. If this sounds like your team, then this may be the best CRM for your MSP.
Zoho CRM: Practical And Affordable CRM For Cost Conscious MSPs
Zoho CRM is an affordable and scalable solution for MSPs. It offers features like lead management, sales automation, analytics, and a mobile app for on-the-go access, with excellent customization options. I don't have firsthand experience with the Zoho CRM feature, but I have poked around Zoho and my opinion is that Zoho is an opinionated choice for your business overall. If you're going to go with Zoho as your CRM be prepared to go all in on the platform's other products. I hear of MSPs using Zoho here and there, but it's a more cost-conscious option and may be feature-stripped. At this time I don't recommend Zoho as a CRM of choice unless your margins are extremely tight and every penny counts.
Monday: Beyond Project Management
Monday.com extends beyond project management, integrating CRM functionality into the platform. It offers a visual and intuitive interface that simplifies collaboration, task management, and client interaction tracking. MSPs can create custom workflows to meet their unique requirements. Monday.com is what we use internally for project management and scrum boards for our clients. I can see how Monday could be used as a CRM, but honestly, it would be a little clunky and probably a better fit for smaller MSPs who are more comfortable tracking leads in a spreadsheet but want a minor upgrade from that to add in some workflow. Monday.com's UIs are very "spreadsheet on steroids" in their feel. If you go with Monday for your CRM, just know that it probably won't scale too far with you on your growth journey.
GoHighLevel: A Multi-Tenant CRM For Acting As An Agency/MSP Hybrid
GoHighLevel is designed with marketing agencies and MSPs in mind. It combines CRM, marketing automation, and various other essential tools. Features like SMS marketing, appointment scheduling, and reputation management simplify client relationship management for MSPs.
I think the most attractive thing about GoHighLevel is that it's easily white-labeled and licensed to your clients. If your MSP is one that is more of an agency/MSP hybrid and you want a licensable CRM option that you can use for your business and your client's business, then this may be the best CRM for your MSP.
Microsoft Dynamics CRM: For Those Unconditionally Loyal To Microsoft Products
Many MSPs claim to be Dynamics experts, but the truth of the matter is that this is only because the licenses are easy to obtain. If a large deal fell into the lap of the MSP and it was really easy to close, they might figure out how to use Dynamics as a CRM, but outside of that, I have never personally seen or talked to an MSP that was using Dynamics as their CRM. Weird right? Despite so many MSPs pretending to offer Dynamics as a service the network of people actually using Dynamics is very small and when I've poked around in the interface it's seemed really clunky to use and not competitive with a tool like HubSpot or Salesforce, despite having a similar price tag. If your MSP is committed to using Microsoft Products, Dynamics is the way to go as long as you understand that you'll have to deal with the hurdles of cost and complexity.
Honorable Mention CRM Options For MSPs
Below are some other options for CRMs for MSPs. These are less desirable options in my opinion for various reasons, either a lack of features and overkill set of features that are more than most MSPs need, or up-and-coming players that don't have a proven following as of yet.
Salesforce: Empowering Enterprise MSPs with Customizable CRM Solutions
Salesforce is renowned for its versatility and scalability, offering a comprehensive set of tools and features. It excels at contact management, opportunity tracking, and sales automation, making it a core component of enterprise client management. Salesforce is much more of an enterprise platform and is a better fit for large-scale organizations.
Zomentum: A startup option dedicated toward the MSP sector
If you'd like to take a gamble on more of a startup option for your MSP take a look at Zomentum. Zomentum is a specialized CRM platform designed specifically for Managed Service Providers (MSPs). It offers a tailored solution for businesses in the IT and managed services industry, providing comprehensive customer relationship management functionalities. MSPs can benefit from Zomentum's features like lead management, sales automation, and proposal creation, which are crucial for acquiring and managing clients in this sector. The platform also offers integrations with various PSA (Professional Services Automation) tools, making it a valuable asset for MSPs looking to streamline their operations and enhance their customer relationships.
GlassHive: Another Very New Startup Option Dedicated To MSPs
Founded by a previous MSP marketing agency owner. GlassHive claims their users have generated over 400,00 leads and over a billion dollars in revenue when using the platform. I don't know much about the platform and I've never heard of anyone using it, but their branding is crisp and they seem to have at least some traction.
Growably: For Tech Tribe Members That Want To Maximize Their Membership
Growably is an MSP-specific CRM from the guys over at TechTribe. I'm not a member but TechTribe is considered an essential resource for new MSPs by many and it has a decent membership base. If you're a member it might be worth looking into as an option.
PSA Integrated CRMs For MSPs
MSP-specific CRM systems are designed explicitly to cater to the unique demands of the MSP industry, or so they claim… These solutions include features like client onboarding, IT asset management, remote monitoring and management (RMM) integration, and ticketing systems. Some noteworthy MSP-specific CRM solutions include the following.
ConnectWise Manage
ConnectWise Manage is a robust business management platform that incorporates CRM features but is primarily tailored for IT service providers. While it does offer customer management and service ticketing, its CRM capabilities are less advanced than specialized CRM systems. ConnectWise excels in areas like ticketing, project management, and billing, making it a great choice for IT companies, but may not provide the depth of features required for a broader range of industries looking for a comprehensive CRM solution.
Atera
Altera is a project management and collaboration tool with some CRM functionality. Its primary focus is on task and project organization, which may make it less suitable for businesses looking for a dedicated CRM system. While it can help manage customer information and communications, it lacks the robust features of a traditional CRM, especially in areas such as sales automation and marketing integration.
Syncro
Syncro is a professional services automation (PSA) tool designed for managed service providers. It incorporates CRM features for client management and ticketing, but its CRM capabilities may be limited for businesses that require extensive sales and marketing tools. Syncro excels in managing IT services, but it might not offer the same breadth of features as a dedicated CRM system for non-IT industries.
Autotask
Autotask, while offering CRM-like functionalities, is generally considered limited compared to full-fledged CRM systems. Its primary focus is on managing customer interactions within the context of service and project management, which can make it less suitable for sales and marketing activities. True CRMs often provide more comprehensive features for lead management, marketing automation, and advanced reporting capabilities. Therefore, businesses with a strong emphasis on these areas may find that Autotask's CRM features fall short of meeting their specific needs.
Limitations Of PSA CRMs
In my opinion, these vendors slap CRM on as an afterthought to their core products and do a poor job. I have yet to run across an MSP that had a robust marketing pipeline and leveraged one of these platforms as their CRM, so they don't really know what they're missing out on. However, I do know of some that use a CRM that integrates back to these platforms via a Zapier integration or native integration depending on the CRM.
Wrapping Up Best CRM Options For MSPs
Selecting the right CRM system is a critical step toward the success of Managed Service Providers. Whether opting for well-established CRM solutions like HubSpot, Salesforce, or Zoho, or choosing specialized MSP-specific CRMs, the primary objective remains consistent: streamline operations, enhance client relationships, and improve overall efficiency. Each of these CRM options offers unique features and capabilities that can be meticulously tailored to meet the specific needs of your MSP business. By implementing the right CRM, MSPs can effectively manage their pipelines and grow their revenues.